La Classicissima di primavera, The Spring Classic, the sprinters' classic. Whatever you call it, there is one thing that Milan San Remo definitely is, and that's long. At 291km, it's the longest one-day race of the season. And, unlike in recent years (with snow and ice hindering the riders during the 2013 edition), the unreliable European spring weather looks like it's on its best behaviour, and we are set for an overcast but pleasingly dry race on Saturday.
Milan-Sanremo is a real test of endurance, and although it's known as the sprinters' classic, it's really the strongest rather than the fastest rider that tends to win here. It's that factor alone that means we see sprinters, classics men, and G.C. contenders all going up against each other for the win — one of only a few times in the cycling year when this really happens.
The sternest climb, Passo del Turchino, comes before half the distance has been covered, but really it has little say in the final make up of the race, other than making its contribution to the relentless sapping of energy that the riders have to suffer through.
We then come to the trio of Capos: Mele, Cervo and Berta. On a normal day these are lumps in the road that wouldn't trouble the average club rider, but in this race, when they come after 230km of riding, they'll host the first dramatic scenes — with riders flexing their calves as they approach the business end of the race.
However, the real action will begin with around 31km to go, on the approach to the famous Cipressa climb, where the first plucky riders will make their attacks. But, as Inrng has pointed out, the earliest that a winning move was made in the last 10 editions is on the yet- more famous Poggio, 7.3km from the finish. It was here that Simon Gerrans chased down Vincenzo Nibali's attack in 2012, and went on to take a big win.
The climb itself, in isolation, is nothing special, and goes without official category. But in the context of this race it becomes one of the most iconic rises in pro cycling, and the scene of countless heroic attacks, pursuits, collisions, and crashes. And, once again, we expect it to play the final decisive role in this year's race.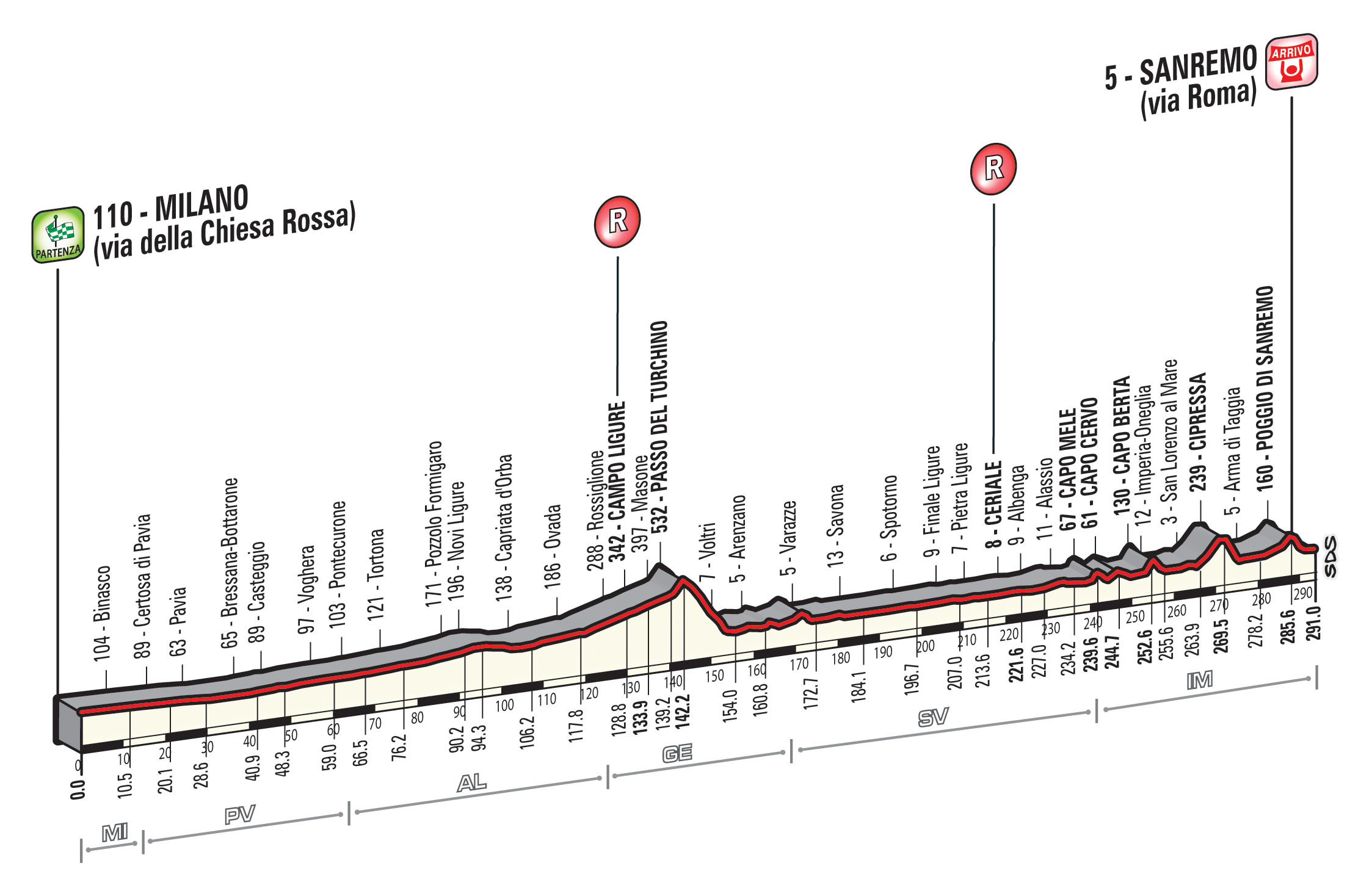 Hopefully it should be clear already from our description of the race that there are many, many riders in with a shot here. But allow us to roll up our sleeves, take a biro to the start list, and jot down a few notes on ones to watch this weekend.
The first thing to take into consideration is the two weeks prior to the race. The riders in the frame fall into three camps: those who raced at Paris-Nice, those who raced at Tirreno-Adriatico, and those who took it easy and skipped the week-long world tour races. Four out of the last five winners of Milan-Sanremo had also ridden Paris-Nice (Degenkolb '15, Kristoff '14, Gerrans '12, and Goss '11), so you might assume that riding the Race to the Sun is key prep-work for victory at La Primavera. However, Cillian Kelly (@irishpeloton) has looked at the last 10 years and dug a little deeper into the results, and they paint a different picture:
This shows that Tirreno-Adriatico tends to be the race of choice for the main contenders at Milan-Sanremo. The one rider who rode neither was Ben Swift, who finished third in 2014. He opted to ride the minor Belgium one-day race Nokere Koerse. It's interesting to see that a week in sunny Italy tends to favour success in the big Italian classic more than the — arguably more sprint-friendly — Paris-Nice. Let's tuck that information away in our minds, and turn to the riders who have been in action recently.
Paris-Nice Riders:
Alexander Kristoff is the bookie's favourite, but he didn't really show great form at Paris-Nice. However, he dominated the spints at the tours of Qatar and Oman, and was second in Kuurne-Bruxelles-Kuurne. He has got plenty of hard kilometres in his legs this year, and will most certainly be in the final mix of this year's race. However, he is missing a key element of his 2014 win and subsequent second place at Milan-Sanremo: Luca Paolini. The Italian helped Kristoff find the best possible position in the previous editions two of the race, but he's now 'not racing', due to his recreational use of a certain banned substance. Without his key lieutenant, Kristoff's chances undeniably lessen, and he'll have a harder time finding a clean line following the chaos after the Poggio without Paolini.
Michael Matthews surprised everyone with his display in the Paris-Nice prologue and the subsequent sprints. He came unstuck in the mountains, but that was to be expected. Matthews is looking sharp, and, unlike previous years, is the lead man for Orica-Greenedge (with no Simon Gerrans in this year's line-up). The one factor could be the amount of racing in his legs; this is the longest race of the year and there is a reason riders targeting it go to lengths to get a lot of road in their legs beforehand. If he is amongst the riders at the finish, then we regrettably might see his sprint impaired by the sheer distance already travelled.
Nacer Bouhanni is hard to like. But he sprinted well in Paris-Nice, when he wasn't forcing his elbows into Michael Matthews' ribs. The one thing to say is that he wasn't sprinting against the best, or, when he was, the best weren't at their best. The Cofidis team is weaker than the World Tour teams, so he will have to be 'boxing clever' (ho ho). However, with the calibre of riders he'll be up against, we can't see him bettering his sixth place finish in last year's race.
Ben Swift is the forgotten man of sprinting in our view, and he seems to quietly go about his business without ever making his mark on pre-race favourites lists. His finished third here in 2014, and was consistent at Paris-Nice this year. Sky have one of — if not the — strongest teams here, with names like Geraint Thomas and Ian Stannard on the list. So Swift will be well looked after during the race, and he represents their best chance in case of a fast finish. We really can't see him hitting the top step of the podium, though, if it comes down to a sprint against the likes of Sagan, Kristoff and Matthews. A solid top five for him.
That brings us neatly on to Geraint Thomas himself. The Sky squad isn't built around him, but 'G' is in great form, especially after the final two stages of Paris-Nice. If he goes for it, it will have to be an attack on the Poggio. And, given the way he descended down the Col d'Èze last weekend, if he gets a gap then there are few who could catch him.
Niccolo Bonifazio is Trek's back-up if Fabian Cancellara gets struck by lightning or abducted by aliens, such is the unlikelihood of Spartacus not being part of the final selection. A local boy, Bonifazio was 5th here last year and sprinted to a good second place on stage 2 of Paris-Nice, behind Arnaud Démare – but on a normal day he doesn't have the pace to compete with the main men in a sprint.
Tony Gallopin, like Thomas, has showed he can ably descend, so an attack on the Poggio is his best chance at taking this race, if he can go on to out sprint a small bunch. If it ends in a pure sprint, though, he won't be near the podium.
There are a wealth of strong outsiders who also rode Paris-Nice. Whatever Arnaud Démare and FDJ did during the off season is working brilliantly, with their superb TT performances at Tirreno-Adriatico and Démare's win in tough conditions in Paris-Nice. Another outsider for the sprint would be Tom Boonen, who has not been up to much so far this year, but is finding form ahead of the cobbled monuments. This is a race he's never run, but this is allegedly his final season of racing, and he might well throw all he has at it.
If it comes down to riders going long on the Poggio, don't look past Tim Wellens. He's a big outsider, but he cant be ignored after his performance in the final stage on Paris-Nice, out-sprinting Porte and Contador after a brutal day's racing. Wellens is now out of Milan San Remo, after suffering with flu in the days after Paris -Nice
Finally, look to Sep Vanmarcke to have a go. Vanmarcke might be our number one outside bet for the podium: he's ridden aggressively all year, and came close to a stage win in Paris-Nice. He's also been out on reconnaissance rides around Sanremo recently, and looks to be eyeing up a launch from the Poggio or Cipressa. If he works well with a big engine like Cancellara, then it may well be race over for the pursuing peloton.
Tirreno-Adriatico Riders:
Peter Sagan will have to up his tactical game if he wants to win Milan-Sanremo. He may very well be the strongest rider in the peloton, but he's doomed to come in second every time until he works on his bad habits. If he's had a stern talking from the Tinkoff management after he took turns on the front in the final kilometres of the key 6th stage in Tirreno-Adriatico, and if he keeps his wits about him in the MSR finale and works on finding the right wheel (rather than towing a rival sprinter to the line) then this could well be his for the taking. Be it attacks on the Poggio or a sprint from the peloton, expect Sagan to feature; you can never rule him out, even if he's speeding towards another second place.
Now, Fernando Gaviria is one to watch. He took a huge win in Tirreno-Adriatico in a showdown against Elia Viviani and Caleb Ewan, and he's previously out-sprinted Mark Cavendish and other heavyweights of the pack. He's not the most consistent rider around, but chalk that up to inexperience. He's destined for good things, though it's not likely that he'll win his first Milan-Sanremo; the huge distance of the course tends to favour more experienced riders, and he may well be flagging on the final climbs. However, this race will be a big indicator of Gaviria's future, and if we see him up at the head of the race or even fighting for podium places, then we can begin to imagine him in the green jersey in Paris in the coming years.
Talking of Mark Cavendish, Dimension Data have already said that Edvald Boasson Hagen is their man for this race, but you can never completely discount the Manxman. He loves MSR, and his win here in 2009 has been mentioned as a favourite each year. He worked for Boasson Hagen at Tirreno-Adriatico, and featured in no sprints himself, but if Milan-Sanremo develops contrary to the EBH plan, then Cavendish will be allowed to duke it out in the sprints if he's feeling at all fresh. He lost out to Kristoff by the narrowest of margins earlier this year, but the Norwegian looks a little off his game at the moment. If he's there for the sprint, then he's got a great chance at a second win.
Fabian Cancellara is another standout favourite for this, and, apart from perhaps Greg Van Avermaet, he is the man of the moment in pro cycling. He's showing extraordinary form, winning Strade Bianche for a third time and taking the Tirreno-Adriatico time trial, and he looks good for a long attack on the Cipressa or the Poggio. He could well time trial it alone, or work the Strade Bianche trick of getting to the line in a select group before out-sprinting or out-foxing his rivals. Out of his last seven appearances in this race, he's hit the podium on five of those occasions, winning outright back in 2008. It would be a fitting final year for Cancellara if he could do it again eight years on.
Greg van Avermaet might be the biggest threat to anyone wanting to make a move on the Poggio. Fresh from his surprise G.C. win at Tirreno-Adriatico, and having finally won a big Belgian one-day race at the Omloop Het Nieuwsblad, Van Avermaet is in the form of his life. He might be better suited to other classics, like the Tour of Flanders or Paris-Roubaix, but with the form he's showing at the moment, why not Milan-Sanremo too? BMC have announced that he'll ride as dedicated team captain, and we can expect to see them work hard for him, labouring under the firm belief that GVA can take this most prestigious of races.
Zdeněk Štybar will be looking to match Van Avermaet's moves, having posted a good-but-not-good-enough performance at Tirreno-Adriatico. Along with Sagan, Štybar will be out to go one better than GVA at all costs. His late attack on stage 2 of Tirreno-Adriatico might have been a test of the legs and a warning shot ahead of the weekend's racing. Expect him to have a go on the Poggio, where he'll pose a real threat to the sprinters and, he'll hope, a threat to the classics riders too.
Another man eyeing up the Poggio is Vincenzo Nibali, who has a history of attacking on the last climb in MSR. He's doubtlessly the finest descender in the race, so could easily and quickly build a substantial lead on the way down. He hasn't got the strong kick that could see him win from a small bunch, so a solo move is his best bet. We're not sure it's going to work out that way for him, though, and, with so many teams interested in larger or smaller sprint scenarios, he might find his surely inevitable move gets rapidly annulled.
Edvald Boassan-Hagen is Dimension Data's man for this race. However, he doesn't appear to have held the form he showed in February in the Arabian tours, so his performance this weekend will be interesting. He is another rider who could either attack late in the race, or else ride it out in the peloton for a sprint finish. With strong support from Cavendish and Steve Cummings, he'll have a good chance at making podium if he can endure the distance.
Michal Kwiatkowski hasn't really made much of an impression since signing with Sky. His big goals are the Amstel Gold race and Liège-Bastogne-Liège in the coming months, so expect him to be here to support Ben Swift or Geraint Thomas. However, as he showed when he won the world champs race, he's got what it takes to make an explosive attack stick when deep into a race. He tried it on here last year, and it looked good until he and Philippe Gilbert rounded a corner too fast and crashed out. We think he's unlikely to give it a go this year, but if he does get permission to go from Sky then he might well leave his mark on the race.
There are other sprinters fresh from Tirreno-Adriatico who might do something here. Giacomo Nizzolo has to be thought of as an opportunist really, as he's too inconsistent in the sprint finishes to count as a true favourite, but if it does come down to the fast men alone then Nizzolo has as good a chance as any. Elia Viviani arguably has a better sprint than teammate Ben Swift, but he's not their leader here simply because of the distance, and he risks getting dropped on the last couple of climbs. Expect him to be working for Swift in the earlier sections of the race. We keep hoping Sam Bennett will live up to the great promise he has previously shown. Though the Irishman has had a pretty lousy time in the sprints this year, that's mainly been down to bad luck rather than poor form. He's yet to really show his hand in the power contests, so it'll be interesting to see what he's got in him for Milan-Sanremo.
Other would-be attackers and elite breakaway hopefuls include Diego Ulissi, who's looked sprightly of late but who hasn't quite managed to hit the podium yet. He'll be sure to fly the flag for Italy by giving it a go on the Poggio, as will fan favourites Sonny Colbrelli and Simone Ponzi — but we don't expect those moves will stick. Instead, a better hopeful might be Jan Bakelants. Bakelants looks to be in much the same shape as when he briefly wore the yellow jersey in the Tour de France '13. He's had some strong performances this year, and was part of a break that stayed away on stage four of Tirreno-Adriatico. He's Ag2r's leader for this race, and his only hope of victory will be to go long, in an small bunch, possibly from as far back as the Cipressa. It feels strange to mention Alejandro Valverde so far down this list, but he just doesn't strike us as a big favourite for this race. However, he's sure to try his luck on the Poggio, and his form's as good as ever, so you never know. Finally, don't forget Cannondale's Simon Clarke. Clarke is definitely enjoying life at his new team, especially the liberty of riding for himself rather than as domestique. On stage 2 of Tirreno-Adriatico he finished in the top five, with riders like Peter Sagan for company. Mixing it with the sprinters here will be too much to ask of Clarkey, so lookout for him to attack on the final climbs.
Phew! Picking favourites is almost as exhausting as riding from Milan to Sanremo (sort of). Here's a round-up:
Sprint finishers: Sagan, Kristoff, Gaviria.
Poggio/Cipressa attackers: Cancellara, Van Avermaet, Boasson Hagen, Štybar, Vanmarcke.
Our picks;
Andy is going for Edvald Boasson Hagen because he wants him to win, rather than he thinks he will win. However, his form in the early races this year has been astounding, and the fact he's been lying low the past couple of weeks might come to his advantage in those final 60 or so kilometres. Go Eddy!
Chris is, as ever, rooting for Peter Sagan. He's a big favourite here, not least because he'll be expected to perform in a break, a late Poggio attack, or in an all-out sprint from the peloton. He'll be up there amongst the best in any scenario, and he has what he takes to win this race (though, as his season so far has shown, 'having what it takes' does not always translate to wins…)
James is going with Fabian Cancellara. Fabs looks untouchable, and even if the race come down to a sprint James backs him — the fast men just don't look to be on top form going into this race. However, more likely will be a powerful attack on the Poggio leading into a solo time trial to the line, taking the race only seconds ahead of a speeding peloton.