We won't get into the aftermath of the stage 2 TTT, @LaVelocipede has summed up our thoughts perfectly here, but as expected the TTT has completely ripped up the GC race with Valverde sitting pretty with a two second lead over Van Garderen, Dennis and Hermans. Thomas, Landa and Froome are forty-six seconds behind the Movistar rider, Contador and Mollema are one minute fifteen seconds back and Yates sitting at one minute twenty-four seconds behind. This is where we'll draw a line and say anyone under this won't now be in contention for the overall. That means Kruijswijk (one minute forty-eight seconds), Martin (two minutes thirteen seconds), Bardet (two minutes fifteen seconds) and Majka (two minutes twenty-seven seconds and Zakarin (two minutes forty-eight seconds) are pretty much out of the running.
EDIT: Before the start of stage 3 the race organisers announced that they had penalised the whole of the Movistar team with a one-minute penalty. So the revised stage and GC placing are listed here. This means that Valverde isn't now in as advantages position as we originally thought, so bear that in mind as you read on through the stage preview!
Regardless of the GC standings, we expect all of these riders to be in the mix in stage 3, which is the first of two summit finishes. The stage has four categorised climbs, with three of them coming in the last third of the stage, finishing with a double ascent up to the ski resort of La Molina.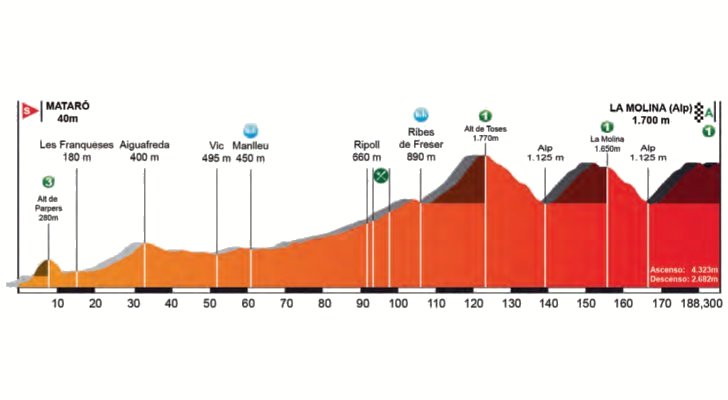 The race starts with a cat three lump which will allow a break to get away and it's pretty much uphill all day. Movistar will do sweet F.A. about bringing the break back as Valverde just needs to follow any attacks from his nearest rivals and sit on their wheels. So it will be up to Sky, Trek-Segefredo and Orica-Scott to chase the break down. We'd expect the to ramp up the pace on the first cat 1 climb, the Puerto de Toses, which isn't a smooth, gradual gradient. It starts off at 3-4%, then flattens out, then pitches back up to 5% and then ramps up to 14% in the final km. If the riders are going to shake of Valverde it will be here, but it will be tough!
After this, the final 48km of the stage takes in two accents up to La Molina, the same as last year and previous editions. The climb itself is short and has an average of 5.8% with peaks at 9%. After the second ascent, they will climb for a further 2km and this will be the scene of a last ditch attempt to snatch back some time for Valverde's pursuers. The final few hundred metres are a descent to the line.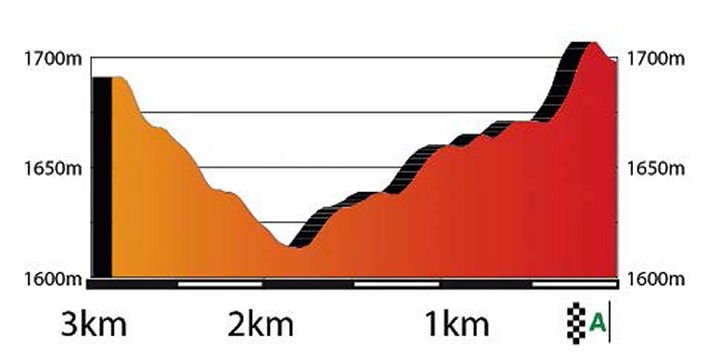 We mentioned above that we expect all the main GC contenders to be at the sharp end of the stage and last year's winner here, Dan Martin will be looking for a repeat success, especially given the fact he's far down in the GC. But Alejandro Valverde will be looking to extinguish any hope his rivals have of clawing back even a few seconds, so if Movistar has staved off the attacks then expect them to deliver him to the final ascent of La Molina to go with the stage win and the bonus seconds on offer. Adam Yates should also go well and try and match his brother's stage win at Paris-Nice. In terms of non-GC contenders, the likes of Brenden Canty or Micheal Woods of Cannondale Drapac would suit this finish, and a win would most certainly suit their team at the moment! Darwin Atapuma has done very little so far this season and will need to start to show his new team some sort of return. Finally, you can't not mention Thomas De Gent on a stage like this, but we think he may be eyeing the queen stages on stage 5, as he did last year.
Our Pick: Adam Yates to continue the World Tour sibling rivalry and gain back some bragging rights.
Winner: Alejandro Valverde (Adam Yates 3rd)