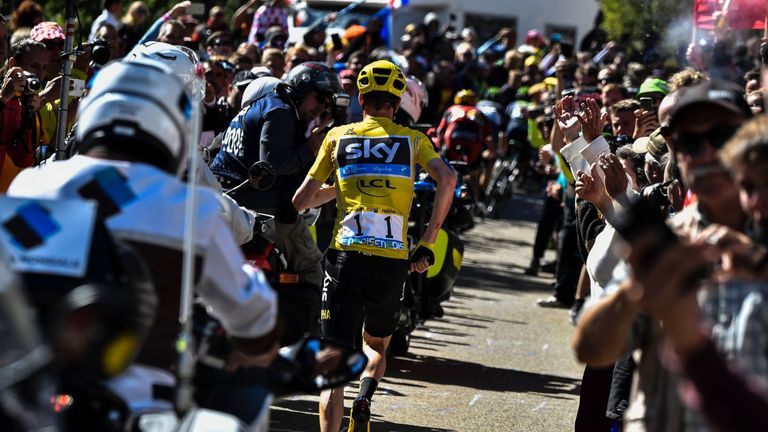 Stage 12 was dramatic throughout, but mostly for all the wrong reasons. For our views on the crash for which the stage is destined to be remembered, see this separate post. Let's just stick with the facts for now. Thomas de Gendt took a tremendous win out of a breakaway that, at one point, had over 18 minutes lead on the peloton. He fought hard to hold the wheels of Daniel Navarro and Serge Pauwels, but eventually surpassed both, and peeled away from Pauwels in the sprint showdown. Chapeau de Gendt! Truly a great victory, though one that will probably be overshadowed by the dreadful comings and goings of the day. Suffice to say, though, thanks to the eventual neutralization of the race that saw Froome and Porte both awarded Bauke Mollema's finishing time, there's no great change on G.C. We also saw that Nairo Quintana, who has been holding his cards to his chest a fair bit, didn't have as much to show after all as we might have thought. He attacked twice, but both were quickly annulled by a stellar ride from Wout Poels, and he lost Froome, Porte, and Mollema in the closing kilometres. It spells danger for Quintana in the coming days, especially as he's not necessarily a favourite for the coming time trial.
Stage 13, which will be unlucky for some, brings the first of two unusual time trials in this year's Tour. The profile of today's isn't too unusual, but what is is the fact that it comes the day after a huge and tiring day riding up Mont Ventoux — so the G.C. riders will have needed to have left something in reserve for today or risk significant time losses.
This is definitely not a flat, all-out powerfest time trial. There are two climbs during the 37.5km that will rule out specialists like Tony Martin, Fabian Cancellara and Jerôme Coppel. It will favour more rounded rouleurs and the G.C. riders who can climb as well as lay down power effectively and efficiently across the course.
From the off, the riders will be suffering (and not just from their efforts the previous day). They are straight on to the Côte de Bourg-Saint-Andéol, which averages 4.9% over 6.9km, and the first time check comes at the summit. There is some imediate respite, with a straight and flat section that runs for around 15km. However, this is an opportunity for the more powerful riders to lay down some watts and make up the lost time on the climbs. After this there is a technical descent, which then leads onto another flat but winding section of road for 8km, during which the second and final time check will be taken. The race to the line will take place up a 3.3km climb that averages 4.9%, and which curves up the mountainside and leads to a 250m flat, straight to the finish.
Taking the scenes on Mont Ventoux into account, we don't know what state of mind or body Richie Porte or Chris Froome will be in for this stage. Normally we would have placed them as potential contenders for the win, and they should still fare well if they haven't sustained serious injuries. Both, indeed, might be doubly motivated now. Tom Dumoulin, though, is the overwhelming favourite. He has shown great form so far, taking an astonishing win on Stage 9, and looks to continue that trend as he prepares for the Rio Olympics. Nairo Quintana attacked on Mont Ventoux, but couldn't make it stick and then went backwards. This is worrying, as it was the first time he really showed any fight, and it was short lasting. He has improved his TT skills, but his confidence will have taken a knock for sure. It's hard to see him perform with the best tomorrow, but he'll aim to not lose much further time. Thibaut Pinot is another who has improved in his time trial, but his showing so far this Tour has been frustrating. After losing more time on stage 12 he now looks resigned to fight for the KOM jersey, but his form on the climbs has been very inconsistent. However, it's possible to read his performance on stage 12 — slipping off the back at the same moment that FDJ were driving the pace — as a tactical play. Pinot might have decided to give up on the G.C. and save some energy in the grupetto precisely to target this stage. He should go like the wind.
Other G.C. riders like Romain Bardet, Dan Martin, and Adam Yates have gone well so far, but today could be where we see them truly undone. None are experts in this discipline, so limiting their losses will be the name of the game. We also now need to talk about Baulke Mollema. He was the surprise rider on Ventoux, and showed fantastic form to take the fight to Froome and Porte before their crash. He performed well at the TT in the Vuelta a Andalucia, which was much flatter, but this hillier course might suit him even better.
Who else to consider? We've not seen much from Rohan Dennis so far this tour, though allegedly he was ill over the first few days. If he's feeling good, he could easily target a strong top ten here. Vasil Kiryienka is on good form, and should post a solid time. You have to wonder what Tejay Van Garderen's plan is. He's stopped appearing at the front at decisive moments of the climbs, but he's never been too far off the pace. Is he holding something back for a time trial that, on paper, suits his rider type? Perhaps, and he is another good outsider pick for the podium here.
Pick: Tom Dumoulin
Outsider: Chris Froome