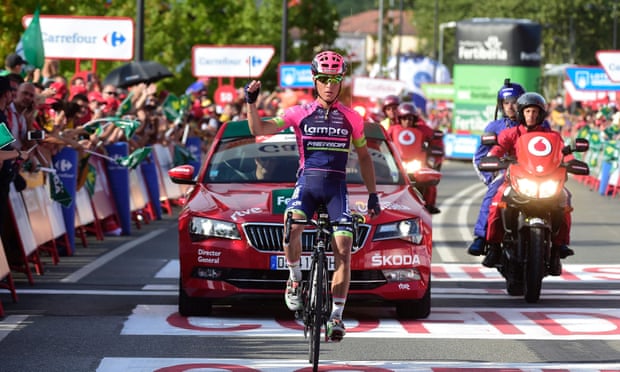 Stage 13, then, was raced indeed raced like a classic-style stage — but only by 12 of the riders taking part. It took the break a long while to get itself established, but, once it did, the gap just opened and opened — to a chasmic 20 minutes for most of the race. No one in the peloton fancied his chances of surmounting said chasm, and so it was something of a day off for most of the riders (if you can consider 213km over difficult hilly terrain a 'day off', even at a slow pace). Given the make up of the break, a sensible bet seemed to be Etixx's Yves Lampaert; he's a strong rouleur and he packs a punch, and he looked like he was skipping turns on the front whenever possible. However, as it turned out, even the classics forces of Belgium couldn't last the whole day, and Lampaert, along with Jelle Wallays, slowly faded in the final few kilometres.
Instead, the race was won by Valerio Conti for Lampre, after a strong and spirited attack stuck on the penultimate uncategorized climb. He managed to take a healthy lead of 40 seconds over the chase group on that climb, and a healthier lead of 26 minutes over the relaxed peloton. He rode skilfully on the descent, and clawed out another 20 seconds on the final ramp — it was clearly going to be his win to enjoy, and the other breakaway men would fight for podium places. Lampaert, somewhat recovered but not enough, made it back on in time to sprint in the finale, but he was easily surpassed by four other riders, and it was Danilo Wyss for BMC who took second, and Sergey Lagutin for Astana who managed third. The peloton came across the line 33:54 down on the leaders, looking relatively fresh and laughing and chatting to one another as they crossed the line.
In France for the day on stage 14, the peloton will need all the energy they managed to save on stage 13, because this is an absolute monster. It ends on the famous Col d'Aubisque, but it takes the riders on a tour of great cols: the Inharpu, the Soudet, and the Marie-Blanque. That makes it three cat 1 climbs in a row, rounded off with a summit finish on an especial. It's also nearly 200km, so it's no wonder the 
G.C. men weren't in a rush on the day before. The Soudet alone has a 5.2% average stretched out over a massive 24 kilometres, which says something about how hard the last climb will be if it's categorized above that. Aubisque itself is 16.5km at an average of 7.1%, with ramps in excess of 10% at around a third and two thirds of the way up. It's not the most radically uneven climb we'll have seen this Vuelta, but it's easily one of the hardest in terms of sheer scale. The time gaps are likely to be big here.
It goes without saying that this will be a tricky one for any team to control, but Movistar are going to have to try — and they can expect Tinkoff and Sky to pick up the pace from the Marie-Blanque onwards. However, there's plenty of good opportunity for a breakaway to form and to build a good lead. They'll have to have their mountain legs on, though, as the best chance will be to shoot up the Inharpu ahead of the peloton. For that reason, we'd look to Pierre Rolland to go up the road here, along with his teammate Joe Dombroski. The Cannondale-Drapac team need to salvage something from this race, and their climbers are running out of summit finishes. Both have gone well in breaks on these long, relentless climbs at the Giro and the Tour in recent years. This is also a hunting ground for the KOM contenders including Omar Fraile, Alexandre Geniez, and Thomas de Gendt. Actually, this stage suits de Gendt's style, not to mention the fact that he loves to go for the dramatic and prestigious mountaintop wins — think of his performance on Month Ventoux this year, where he won the stage. It's interesting, too, that Sergey Lagutin, thanks to his performance on stage 13, now leads the KOM contest by a single point over Quintana, and two points over Fraile. It's clear that Quintana is going to pop a few more polka dot points in his purse here, but there's also ample opportunity to take a strong lead in that contest, and if Lagutin has anything left in the legs after yesterday then he might want a crack at the break again. But it's a big ask, against almost an entire field that didn't race as hard as he did. Two young riders, who have been quiet so far in this race (but would have had this weekend marked down as a target) are Louis Meintjes and Hugh Carthy. Meintjes is fresh of a fantastic 8th GC placing at the Tour and Carthy went toe to toe with the likes of Froome, Contador and Quintana at the Volta a Catalunya earlier this year. Both a way down on GC and would be two of the best climbers in any breakaway.
That's the break dealt with, but it's not certain that they'll fight for the win. There's a decent chance that it will come back together on that last climb, in which case we have to look to the usual suspects: Nairo Quintana, Chris Froome, Alejandro Valverde, Alberto Contador, Esteban Chaves, and Michele Scarponi. And we should probably add Simon Yates to that list, given the way he's been climbing over the past week. It's clear that anyone who wants a crack at the G.C. will need to ride well here, and anyone who wants to rise to the top of the podium will need to make an attack stick. Arguably, Froome is a slight exception here, as he should be able to gain more time on Quintana in the coming time trial than the other favourites. But we should still see some very aggressive riding, and anyone suffering from late-season syndrome could well and truly crack on the unforgiving ramps up the Aubisque. We're also excited to see how young Frenchman Pierre Latour goes tomorrow. He is over 7 mins down on G.C. though, so he is unlikely to be allowed to get away in the break. He held his own on Stage 9 up the Peña Cabarga, finishing 9that 22 seconds behind Froome. Also watch out for Davide Formolo, who we rate more than his G.C. stablemate Andrew Talansky. But those two riders could work well together until the final slopes of the Aubisque.
It's worth mentioning that Robert Gesink started the last climb to Lagos de Covadonga with little over a minute on the chasing peloton, and other than a few men, he finished with more than a minute on the field. Riders who were a minute after him include Samuel Sánchez and Leopold König, who may well lose ground in the G.C. contest here. This suggests that Gesink is climbing very well indeed at the moment, and he could easily feature today. If a strong break goes, it might be prudent for him to chase it down — he's over 44 mins down on G.C., so no threat, and he could out-climb nearly anyone you could name in a breakaway. He will also stand a decent chase of a good result if he does hit the final climb with the peloton. For that reason, we're going to optimistically name him as a podium pick today.
Picks:
It's difficult to make a good pick here, as it's hard to choose between the break or the pack. But, given that the G.C. riders were holding a lot back on stage 13, it looks like they're going to go full force into this weekend of climbing. Therefore, it has to be Nairo Quintana for stage win again. Froome would have to do something astounding to stop him winning the G.C. now. As justified above, our pick for the podium here is Robert Gesink, and indeed we truly hope he manages a win.